News
Remarks by Ambassador Michael Froman at the Opening Ceremony of the 2015 AGOA Forum
Remarks by U.S. Trade Representative Michael Froman at the Opening Ceremony of the 2015 U.S.-Sub-Saharan Africa Trade and Economic Cooperation Forum (AGOA Forum) in Libreville, Gabon, 26 August 2015
AGOA at Fifteen: Charting a Course for a Sustainable U.S.-Africa Trade and Investment Partnership
Good morning.
Your Excellency, President Bongo Ondimba, Honorable Minister Tchango, esteemed members of the Gabonese Government, Ministers and Heads of Delegations from the 39 AGOA partner countries, my U.S. Government colleagues, and private sector and civil society leaders:
If I may borrow a phrase I learned here in Africa: All protocol observed.
It's a pleasure to be among so many friends of AGOA.
And of course, some of AGOA's best friends are the Members of Congress and Congressional staff who have travelled to be here with us at the Forum. For a number of these members, this is their second trip to Africa in as many months, having accompanied President Obama on his historic fourth visit to Africa as President just a month ago. As the President said during that trip, 'Africa is on the move.' There's no question our friends in Congress intend to keep up. Thanks to their leadership, and bipartisan support of large majorities in both houses of the U.S. Congress, as well as the tireless efforts of the African diplomatic corps, and stakeholders in the private sector and civil society, we secured a 10-year renewal of a new and improved AGOA, the longest extension in the program's history.
In the coming days, let's stretch our thinking and our ambitions to match this historic extension. We need to make sure AGOA's potential is fully explored and its benefits fully utilized. That will require work on both sides of the AGOA equation. Our African partners will need to design strategies to take full advantage of AGOA's tariff preferences, and the United States will need to work to make sure we are providing the trade capacity building and other assistance necessary to support those strategies. But we also need to start thinking about our long-term, trade and investment relationship today, just as the theme of this summit encourages. We do not come to the table with a predetermined outcome in mind, but rather with the perspective that we need to start a dialogue about the emerging opportunities and challenges that will shape the global economy during the next decade, and how we might best navigate this fast-changing landscape together.
But before we delve into the work at hand, let's pause for a minute to consider how Africa has exceeded expectations. Ten years ago, many thought sub-Saharan Africa would become less important to the global economy. Today, sub-Saharan Africa is among the fastest-growing regions in the world. Many thought the IT revolution would skip Africa. In 2003, Safricom, Kenyan's leading mobile provider, was planning for 500,000 customers by 2013. They ended up with 21 million. Some put forward grim predictions for health and demographic trends that failed to account for medical innovations and the ingenuity of public-private initiatives. So as we think about the future, let's remember that Africa has a habit of exceeding expectations.
Looking forward, Africa's opportunities challenge the imagination. Over the next five years, sub-Saharan Africa's GDP is forecasted to grow 30 percent faster than the rest of the world. By the World Bank's estimate, sub-Saharan Africa is home to 413 million children under the age of 15 – nearly as many as the 431 million children in the developed world and China combined. A generation from now, the region will be home to almost a quarter of the world's workforce. According to the UN, sub-Saharan Africa's urban population is expected to grow from 360 million to 1.18 billion by 2050, surpassing the urban population of the entire developed world. These demographic trends could be accompanied by greater productivity, demand, and investment, underscoring how important Africa will be to the entire world economy. But they also present new challenges for meeting rising needs.
During the next decade, the march of technology will continue to expand the bounds of what's possible, including how we trade and what we trade. By 2025, Africa's internet penetration is expected to climb from 26 percent to over 50 percent, and there will be 360 million smartphones on the continent – roughly twice as many as there are in the United States today. Greater connectivity could mean greater access to essential services, from education, to medicine, to credit and savings accounts. While much of the developed world is locked into investments in older infrastructure, these and other technological trends, especially in energy, provide an opportunity for African countries to leap ahead and adopt more efficient and sustainable solutions. To do so, however, will require strategic investments, strong public-private cooperation, and an abundance of political will.
Africa is already actively deepening and expanding its trade and investment relationships, taking steps to establish the Tri Partite and African Continental Free Trade Area (CFTA) and shifting to more permanent and reciprocal trade arrangements with some of its developed country trading partners. Looking forward, it's possible to imagine Africa as one large market, from Cape Town to Cairo and Libreville to Port Louis.
As Africa continues rising during the next decade, the rest of the world will not stand still. The United States is already moving forward with next-generation trade agreements that will raise standards across both the Asia Pacific and the Atlantic and could have positive spillovers here in Africa. For example, the Trans-Pacific Partnership will help combat illegal wildlife trafficking, including the illegal trade of ivory from Africa. That will complement some very successful efforts here in Gabon, where effective enforcement has actually reversed rampant elephant poaching and population decline in the Wonga-Wongue Reserve, which I had the pleasure of visiting yesterday. In addition to the environment, we are working to set higher standards across the board – on transparency, good governance, and anti-corruption; on good regulatory practices; and on basic worker rights – all of which are critical, long-term drivers of sustainable, inclusive development. And as more economies join TPP over time, we hope to contribute to rising global standards as well.
Where does Africa fit into this picture? The United States is not new to Africa. We've been involved here for decades, not as a colonial power, but as a partner – one focused not just on extracting resources from the continent, but investing in human resources in the continent. Every region, every country is different, with its own set of challenges and its own legacy, but we must not underestimate what this vibrant continent is truly capable of accomplishing.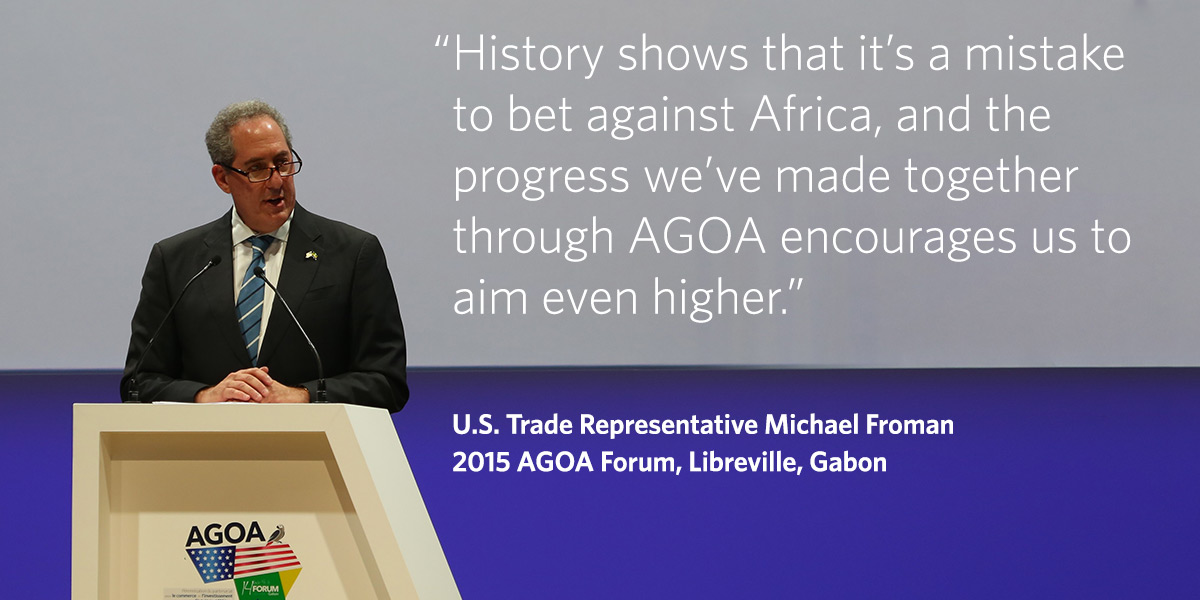 History shows that it's a mistake to bet against Africa, and the progress we've made together through AGOA encourages us to aim even higher. Doing so will surely require a more comprehensive approach, one which recognizes that tariff preferences alone are not sufficient and addresses the supply-side constraints facing Africa today. To be productive, Africa needs affordable, reliable electricity. To successfully integrate into global supply chains, Africa needs the capacity to meet international standards. To be competitive, Africa needs to match the efficiencies of Asian and Latin American ports with effective trade facilitation policies. And that's why our approach is to situate AGOA in the context of a broader development strategy that includes Trade Africa, Power Africa, Feed the Future, the Global Health Initiative, MCC compacts, USAID assistance, World Bank and African Development Bank investments and other programs that can support Africa's own priorities and help build the continent's capacity to trade competitively in the 21st century global economy.
Our development strategy recognizes the centrality of economic growth to poverty alleviation. It is based on the conclusion that to achieve sustainable growth, we need trade, not just aid; investment, not just assistance. But it is also based on the conviction that growth by itself is not sufficient. The quality of that growth matters as well if we are going to see the powerful linkage between expanding trade and alleviating poverty continue. That requires that the benefits of growth be broadly shared. By 2022, it is estimated that the world's middle class will surpass the number of people living in poverty. The strength of our economic partnership will play a critical part in determining whether that trend continues and whether, working together, we can end extreme poverty and, indeed, confine poverty to the dustbin of history.
Let me be the first to admit that we don't have all the answers for the path that we should chart to achieve these goals, but I hope that over the coming days we can begin asking the right questions and identifying the contours of a deeper and more sustainable, post-AGOA, U.S.-Africa trade and investment partnership.
Thank you.