News
tralac Daily News
National news
South Africa's GDP will take at least five years to recover from COVID-19 impact, says UNDP study
South Africa's overall GDP is expected to decline by at least 5.1 and up to 7.9 percent in 2020 and recover slowly through 2024. This will lead to major setbacks in addressing poverty, unemployment and inequality, according to a new UNDP study on the socio-economic impact of COVID-19 in South Africa.
The study focuses on how COVID-19 will drive temporary and long-term changes in poverty levels in South Africa. The number of households below the poverty line increases as households fall from the lower middle class. Fifty-four percent of households that have been pushed out of permanent jobs to informal or temporary contracts as a coping mechanism for businesses affected by COVID-19, are likely to fall into poverty after the 6-months stimulus package is over. Thrity-four percent of households are likely to exit the middle class into vulnerability.
MEMSA: Resurrecting South Africa's industrialisation (Miningreview.com)
While South Africa's local manufacturing sector has suffered at the hands of imported goods, Mining Equipment Manufacturers of South Africa (MEMSA) CEO Ossie Carstens believes that Mining Charter 3 has created a supportive environment for the reindustrialisation of South Africa. This can be achieved through the growth and transformation of the local mining supply chain
When COVID-19 sways cash-strapped Cameroon into debt relief – GGA (Good Governance Africa)
Prior to the onset of the coronavirus pandemic, Cameroon, an oil exporter with a bloated bureaucracy, was still reeling from the 2014-2016 oil price collapse – one of the most significant oil price slumps in modern times.
In five months, following the outbreak of the coronavirus in Cameroon on 6 March, 2020, the government has spent slightly over 21.9 billion francs CFA (circa $54.1 million) in its response to the pandemic, according to a report on reliefweb on 29 July, 2020. Now, the closure of borders and the introduction of restrictions on movement and other measures to slow down the spread of the coronavirus has meant a reduction in customs and tax revenues – two important income streams.
Ghana-Nigeria trade war: What you should know about the law (GhanaWeb)
There's been a seeming tension in the trade industry in recent times due to misunderstanding between Ghanaian traders and foreigners on their legality to engage in retail businesses in Ghana. There have been reports of closure of retail shops owned by foreigners by a task force put together by the Trade Ministry. The Public Relations Officer of the ministry had said it is against the laws of Ghana for foreigners to own retail shops in the country. In this report, GhanaWeb throws light on laws that govern both the investment and trading activities in the county.
Regional and continental news
AU, World Tourism Foundation Institute to grace Africa Digitization Conference (GhanaWeb)
The World Bank projects that Africa's economic growth will decline from 2.4 percent in 2019 to between -2.1 percent and -5.1 percent in 2020. This is expected to be the first recession in 25 years. While looking at the trade figures, the continent's international tourism receipts totaled 36.2 billion USD in 2016, comprising only 3% of global tourism receipts. Based on these statistics the African Union hopes to use tourism as one of the major drivers for intra-African Trade.
Looking at these issues amidst COVID-19, the Chamber for Tourism Industry Ghana (CTI Ghana) – with support from the Africa Open Data Internet and Research Foundation (AODIRF) – will lead a digital conversation on how African economies could take advantage of the current crisis through
African Development Bank 2020 Annual meetings: Building Africa back better after the COVID-19 pandemic
For the first time in the history of the African Development Bank, its Annual Meetings will be held virtually to comply with the COVID-19 pandemic-related social-distancing guidelines. The Governors' Dialogue and the election of a president will be top of the agenda of the upcoming Meetings scheduled for 26-27 August 2020.
Governors are expected to receive updates on a range of Bank developments since the previous Annual Meetings held in Malabo, Equatorial Guinea in June 2019. This will include the Bank's seventh General Capital increase, which the Board of Governors approved in Abidjan, Cote D'Ivoire on October 31, 2019, and which increased the Bank's capital base by a historic $115 billion to $208 billion.
Watch: Africa wants trade development, Minister Abela tells EU advisory body (Newsbook)
Africa does not simply want aid, it wants trade development and growth, Minister Carmelo Abela told an EU advisory body comprising representatives of workers' and employers' organsiations and other interest groups, during a meeting on Monday. In a statement, the Office of the Minister within the Office of the Prime Minister said that the European Economic and Social Committee (EESC) was satisfied with close communication the government had with civil society, especially during the pandemic. During the meeting, the ministry and the EU advisory body discussed external aid, investment and trade as instruments for economic growth and to reach the 2030 United Nation's Sustainable Development Goals.
Rise in transshipment traffic raises Mombasa East Africa gateway profile (Hellenic Shipping News Worldwide)
Transshipment container traffic at the port of Mombasa jumped 74 per cent in 2019, buoyed by a strong performance in the second-half of the year, raising Kenya's hope of consolidating its grip as the preferred gateway to the region.
Data by the Kenya Ports Authority (KPA) shows that the Mombasa port handled a transshipment (goods destined for other ports) traffic of 211,204 twenty-foot equivalent units (TEU) in 2019 compared to 121,577 the previous year. This pushed the share of transshipment in the overall port throughput to 7.2 per cent in 2019 compared to four per cent in 2018 and representing an increase in volume of 1.25 million tonnes. "In the transshipment segment, our dream to become a regional transshipment hub is taking shape," KPA acting managing director, Rashid Salim said.
Deadline looms for signing of UK-EAC Brexit trade pact (The East African)
With only four months to the December 31 expiry of the current trade arrangement, in which EAC partner states enjoy duty-free and quota-free access to the lucrative UK market, Kenya is starting to lose patience with the slow pace of negotiations at the regional trade bloc level, The EastAfrican has learned.
With time running out, Nairobi may be forced to take "an aggressive stance at the EAC talks to secure interests of Kenyan producers, wary that a repeat of the failed EPA process must not be allowed," an official told The EastAfrican while requesting anonymity. As a Lower Middle-Income country, Kenya stands to lose the most if the EAC does not sign a collective post-Brexit trade deal with the UK, as its exports will become subject to taxes and other restrictions.
Related:
---
INSIGHT: Why Tax Collection Remains a Challenge in Sub-Saharan Africa (Bloomberg Tax)
Revenue from taxation is declining in sub-Saharan Africa, representing newfound challenges as governments seek resources to not only tackle broader development goals, but the impact of Covid-19. Larry Eyinla, EY Africa Tax Leader, shares how local governments can reimagine their tax administration to thrive during and beyond the pandemic.
Africa food organization 'fails to deliver on promise to double yields' (SciDev.net)
Large agricultural development programs have done little to reduce hunger while pushing farmers into debt, food security experts say, as they warn that such schemes risk failure if they do not move away from industrial fertilizers and seeds.
False Promises, a report from a coalition of international development organizations, argues that the Alliance for a Green Revolution in Africa (AGRA) missed its 2015 goal to double the productivity and incomes of 30 million small-scale food producers by this year, saying that AGRA's initial goals were to double incomes for 20 million farming households while halving food insecurity in 20 countries by 2020.
Global news
Devastated by pandemic, tourism sector must be rebuilt in a safe, equitable and climate friendly way – UN chief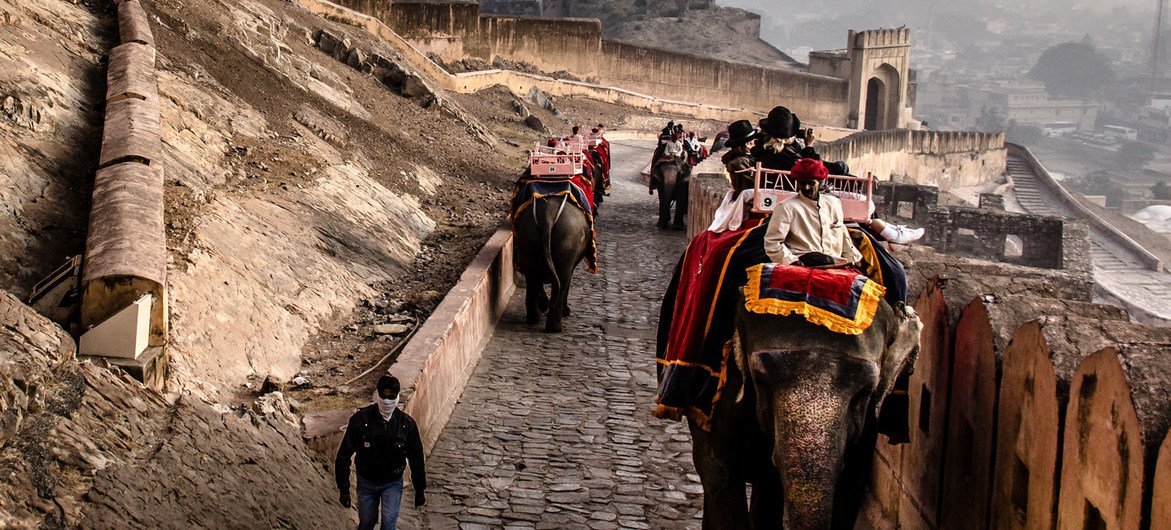 Launching his latest policy brief, on tourism, Secretary-General António Guterres, pointed out that the industry "employs one-in-every-ten people on Earth and provides livelihoods to hundreds of millions more". Strong data from the UN World Tourism Organization (UNWTO) shows that 100 to 120 million direct tourism jobs are at risk. And the UN Conference on Trade and Development (UNCTAD) forecasts a loss of 1.5 to 2.8 per cent of global GDP.
Describing tourism as an opportunity to experience the world's cultural and natural riches, bringing people closer to each other and highlighting our common humanity, Mr. Guterres said: "One might say that tourism is itself one of the wonders of the world".
Reviving WTO role as guarantor for stable international trade is my priority: Director General Candidate (Daily News Egypt)
The World Trade Organization (WTO) is set to hold elections shortly to find a new Director General, with Egyptian candidate, Abdel-Hamid Mamdouh, lobbying for his election to the position. In an interview with Daily News Egypt, Mamdouh highlighted that, should his election campaign prove successful, his priority will be to revive the organisation's role as the guarantor of stability and predictability in international trade relations.
With COVID-19, rich countries are in danger of abandoning the poor (Thomson Reuters Foundation)
COVID-19 has upended life as we know it, devastating livelihoods and economies around the world. It has delivered a devastating indictment on how little we have done to address existing problems around human rights and injustice.
We know that as countries grapple with domestic concerns, there has been a slowdown in regional and global cooperation, leaving the most vulnerable countries in a fragile state of danger. What's the answer? Development aid and investment is vital. One lesson of COVID-19 is that prevention is cheaper than cure. If we fail to prevent the collapse of economies across Africa and beyond the repercussions will be felt globally.