News
tralac Daily News
National news
Remarks by Minister Ebrahim Patel at the Global Industrial and Manufacturing Summit, Video Recording, 4 September 2020
Covid-19 caused disruptions to supply-lines of basic medicines and equipment needed to save lives, it imposed huge costs on local economies and it laid bare the challenges the African continent faced even before the pandemic. Global economic integration comes with clear benefits, through the access to the technologies and innovations from across the world. But the benefits of highly integrated supply-chains come with enormous vulnerabilities when they are disrupted. If there is to be a legacy from this painful period, it must be to rethink development and indeed build a continental framework for greater economic resilience and industrialisation.
New Seychelles airline to launch as cargo carrier, due to pandemic (Engineering News)
Private-sector startup airline Seychelles International Airways (SIA) has announced that it will commence operations on September 10 as a cargo-only carrier, because of the Covid-19 pandemic. It will initiate its services with a four-engined Airbus A340-600, it announced in a press conference, the Seychelles News Agency reported. "We are not focusing on passenger flights at the moment unless there is a demand or a chartered flight, which will follow all procedures of the health department," said SIA CE Robert Marie. "We are focusing on bringing cargo into the country as we feel and have evidence that Seychelles needs cargo."
Ports, Railways And Pipeline Agencies Commit To Joint Operations Framework (Capital News)
The Kenya Ports Authority (KPA), Kenya Pipeline Company (KPC) and Kenya Railway have formally signed a framework for joint operations under the Kenya Transport and Logistics Network to be overseen by the National Treasury (KTLN). The framework signed on Tuesday followed the establishment of KTLN on August 7 through an Executive Order by President Uhuru Kenyatta.
Sh3.3trn bulk cash transfers signal business activity uptick (Business Daily)
Real-time bank transfers of more than Sh1 million recovered from a 26-month low to touch a new monthly record in July as authorities started easing Covid-19 trade and travel restrictions. Transactions cleared and settled through the Kenya Electronic Payments and Settlement System and Real Time Gross Payment System (KEPSS/RTGS) amounted to Sh3.32 trillion in July, the month when businesses started reporting increased activity, according to latest statistics.
Ethiopia to make, export Covid-19 test kits with China's help (The East African)
As Covid-19 cases continued to climb sharply, Ethiopia's Ministry of Health on Sunday announced that the country will start manufacturing its own test kits with China's help. Manufacturing the test kits locally will help Ethiopia, Africa's second most populous nation of over 106 million people, to boost its national Covid-19 testing capacity.
FG Appeals over Deregulation, Hope Rises for Infrastructure Funding (THISDAYLIVE)
The federal government yesterday stepped up efforts on two fronts to douse tensions generated by the double whammy of the increase in petrol pump price and electricity tariffs with Vice President Yemi Osinbajo saying the hike in the cost of the two items was not to inflict pains on Nigerians. Earlier, a new tariff regime in the power sector, under which the price of a kilowatt per hour of electricity had more than doubled, had taken effect from September 1. The Minister of Finance, Budget and National Planning, Mrs. Zainab Ahmed, had last Thursday shed light on why the federal government was forced to stop fuel subsidy, saying it constituted a drain on the country's meagre resources. She had explained that all the decisions were geared towards weathering the current headwinds posed by the COVID-19 pandemic. The presidency followed up with a statement on Sunday in which it said but for a myriad of economic challenges caused by the COVID-19 pandemic, the president would not have allowed the rise in the pump price of petrol to protect the vulnerable.
---
Regional and continental news
Virtual roll out of East African Community Regional Electronic Cargo and DriverTracking Systems (RECDT)
The East Africa Community Secretariat and its Partner States will virtually launch RECDTS that will issue jointly recognised EAC COVID-19 digital certificates today, 8 September 2020. The App provides a surveillance system to monitor long distance truckers crew health and enable contact tracing. It allows partner states to electronically share truck drivers' COVID-19 test results; therefore, minimising need for multiple COVID-19 tests in a single trip. The reliance on manual certificates and delayed test results at the borders has been reported as one of the main reasons for costly long delays at border points.
AfDB contributes to regional food security through forum (Naija247news)
The African Development Bank (AfDB) says its partnership with African Green Revolution Forum (AGRF) is to promote policies aimed at ensuring food security in the continent. "As COVID-19 causes disruptions across Africa, we must prioritise policy support, especially for small and medium enterprises that produce, process and market 60 per cent of food consumed on the continent," Mrs Wambui Gichuri, AfDB's Acting Vice President for Agriculture, Human and Social Development, said this in a statement on Monday in Abuja. "We need to enhance movement of inputs and food, increase production of, and access to, healthy and nutritious foods, establish food security task forces in countries, as well as strengthen regional organisation capacity to monitor multi-country initiatives."
African Green Revolution Forum targets urban food supply boost amid Covid-19 disruption (African Business Magazine)
As Africa's food systems face up to unprecedented Covid-19 supply disruption, AGRF's Virtual Summit begins on Tuesday in Rwanda under the theme 'Feed the Cities, Grow the Continent'. Since the onset of the crisis however, agricultural exports have faced demand disruptions and supply chain issues, while localised pricing spikes and market and logistical bottlenecks have been seen, according to McKinsey research. Logistics costs have spiked due to travel restrictions, border checks, curfews, staff shortages, and volume reductions. Extra demand-side pressure may worsen food insecurity as incomes dwindle and food prices increase. In Kenya, pricing for most food commodities was between 4 and 27% higher than at the same time last year.
Ecobank Nigeria Set to Host Virtual Africa Trade Conference
Ecobank Nigeria, a member of the pan African banking Group has concluded plans to host its first Regional Trade Conference. The virtual forum with the theme "Facilitating Regional Trade in the emerging AFCFTA era" is slated for the 22nd of September. Sunday Abah, Head, Trade Finance, Ecobank Nigeria noted: "Ecobank's unique intra-Africa trade solutions enable settlements of international transactions and mitigation of payment risk while providing regional solutions such as issuance of payment guarantees to exporters without the need for a letter of credit and its related costs to the importer. Ecobank works closely with clients in structuring transactions, settlements, financing and risk mitigation."
Absa commits to growing African trade with award-winning online platform (Business Day)
Absa's online trade finance portal, Trade Management Online, guarantees its clients efficiency, convenience and protection.The group is broadening access to trade finance by digitising its trade finance offering, ensuring increased trade opportunities that boost economic growth in Africa. "Trade is critical to Africa's growth," says Michelle Knowles, pan-African head of trade finance product at Absa Corporate and Investment Bank. It has been hindered by a lack of access to trade finance, despite growing demand for products that give importers and exporters multiple ways of financing trade transactions and a range of proven risk mitigation options.
Comesa warns against rising pyramid schemes (The Chronicle)
THE Common Market for Eastern and Southern Africa has warned consumers in the trading bloc to be warry of the pyramid schemes that are defrauding people of their hard-earned money. A pyramid scheme is a fraudulent investment plan that has cost a lot of people worldwide their hard-earned savings. In a statement, the Comesa Competition Commission (CCC) said its attention had been drawn to the activities of a scheme known as 'Crowd1', which markets itself as a digital multi-level firm and whose operations are being investigated in some jurisdictions.
SADC convenes Webinar to showcase the African Medical Supplies Platform
On 4th September 2020, SADC Secretariat, in partnership with the United Nations Economic Commission for Africa (UNECA), Afreximbank, African Centre for Disease Control (CDC) and African Union Special Envoy, Mr Strive Masiyiwa, convened a virtual meeting to discuss the opportunities offered by the African Medical Supplies Platform (AMSP) to SADC Member States. Delivering remarks on behalf of SADC Executive Secretary, Deputy Executive Secretary, Corporate Affairs, Ambassador Joseph Nourrice highlighted that the initiative came at the right time for SADC to propel the efforts towards pharmaceutical manufacturing; to provide an efficient, innovative and cutting edge system to eliminate procurement bottlenecks, in the face of the COVID-19 pandemic.
We've eliminated over 95% of trade barriers along borders – ECOWAS (Vanguard)
The Economic and Community of West African States, ECOWAS on Monday said it has eliminated over 95% of trade barriers along borders for member states under the ECOWAS Trade Liberalization Scheme, ETLS. This was as it said that Nigeria alone accounts for 60 to 70 per cent of products under the scheme. "Accordingly, the goal of this workshop is to articulate the views of various stakeholders on impact of ECOWAS Vision 2020, as well as the expectations of the people of Nigeria, with regards to the formulations of the ECOWAS Vision 2050 document."
'AfCFTA will resolve trade conflicts on the continent' – Ghana's Amb. to China (GhanaWeb)
Ghana's Ambassador to China, Edward Boateng believes that the African Continental Free Trade Area (AfCFTA) will present numerous opportunities to the continent and resolve petty trade disagreements amongst countries. With the AfCFTA bringing a lot countries together, he is of the view that intra-trading amongst countries will increase trade and present the continent with a large part of the agricultural profitability cake. "I think if we can resolve the issue of production, some of these issues will resolve themselves. Why do we have our people engage a lot in petty trading? I believe it is because we lack opportunities that is why we face these problems. But the AfCFTA will help us get lots of these opportunities."
EAC Chair Paul Kagame addresses regional relations, COVID-19 & Paul Rusesabagina's arrest (CNBC Africa)
Yesterday during an interactive live citizen outreach interview, Rwandan President Paul Kagame answered questions about COVID-19, the recent arrest of Paul Rusesabagina and tensions between some of the members of the East African Community. Here's some of what he had to say.
---
Global news
The Role of Digitalization in the Decade of Action for Africa (UNCTAD)
It is widely recognized that digitalization is one of the most powerful tools for implementing the 2030 Agenda for Sustainable Development and Africa's Agenda 2063. Today, more than 80 per cent of Africa's population has a mobile phone subscription. Africa is still the least connected region compared to other regions of the world with about 28,2 per cent internet coverage and 34 per cent to mobile broadband. Few citizens have digital IDs, businesses adopting digital technologies remain the exception rather than the norm, and few governments are investing strategically in developing digital infrastructure, services, skills, and entrepreneurship. There is also a need to adapt and harmonize legislations on technology, including intellectual property and data privacy, to truly unleash Africa's digital potential.
Written by Dr. Vera Songwe, United Nations Economic Commission for Africa Executive Secretary.
Changing Global Complexities Affecting Africa's Performance Outlook, Says Ex-President Sirleaf (FrontPageAfrica)
Former Liberian President Ellen Johnson-Sirleaf says the world is witnessing increasing complexities and shifts in alliances amid the reordering of priorities in the wake of the deadly Covid-19 pandemic. On current trends, Africa remains off track to meet the target of eradicating extreme poverty by 2030. Unless bold policy measures improve both the quality and quantity of growth, Africa would only meet the required 3 percent annual decline of the Sustainable Development Goals by 2045."
President Sirleaf suggested that the effective mitigating policies and determined actions can change this situation and put Africa back on track. "Of course, in this regard, the primary responsibility rests with African themselves – African leaders, civil society actors, entrepreneurs, and the African people. The absolute priority must be to bring Covid-19 to an end globally through the observance of appropriate response measures, and an outreach of needed support."
OPEN LETTER: Africa's pandemic response calls for reclaiming economic and monetary sovereignty (Daily Maverick)
While Africa has, so far, been spared from the worst public health effects of the Covid-19 pandemic, the subsequent economic shutdown has brought Africa's economic deficiencies and structural vulnerabilities into sharp focus. As a resource-rich continent, Africa has the capacity to provide a decent quality of life for all of its inhabitants. Africa is capable of offering universal public services, such as healthcare and education, and guaranteeing employment for people who want to work, while ensuring a decent income support system for those who cannot work. However, decades of colonial and postcolonial socio-economic dislocation exacerbated by market liberalisation have forced African countries into a vicious cycle involving several structural deficiencies, characterised by: A lack of food sovereignty; A lack of energy sovereignty; and Low value-added manufacturing and extractive industries.
Kenya's tariff dilemma in trade talks with US (Business Daily)
Kenya's tariff policy and market access terms are in focus in negotiating a new bilateral trade deal with the US amid calls for caution not to overexpose its nascent industrial and agricultural sectors. Though Kenya has over the years reduced its overall protectionism, tariffs remain its main trade policy instrument while juggling between boosting international trade and cushioning local producers from external competition. IDFA president and CEO Michael Dykes said in a letter to US Trade Representative, Robert Lighthizer dated August 5. "US negotiators should seek ambitious tariff reductions, including for protected dairy products in Kenya, while seeking a simplified, trade facilitative entry of US dairy imports into Kenya," he further said.
Fear that oil firms will dump plastics in Africa (Republic World)
The oil industry has asked the United States to pressure Kenya to change its world-leading stance against the plastic waste that litters Africa, according to environmentalists who fear the continent will be used as a dumping ground. The request from the American Chemistry Council, whose members include major oil companies, to the Office of the United States Trade Representative came as the US and Kenya negotiate what would be the first US bilateral trade deal with a country in sub-Saharan Africa. "This deal will have dire consequences in terms of the environmental pollution because plastics have been touted as the major polluters of our water bodies," said Fredick Njehu, senior political advisor at Greenpeace Africa.
World Trade Organization: How an African head could make a difference (BBC News)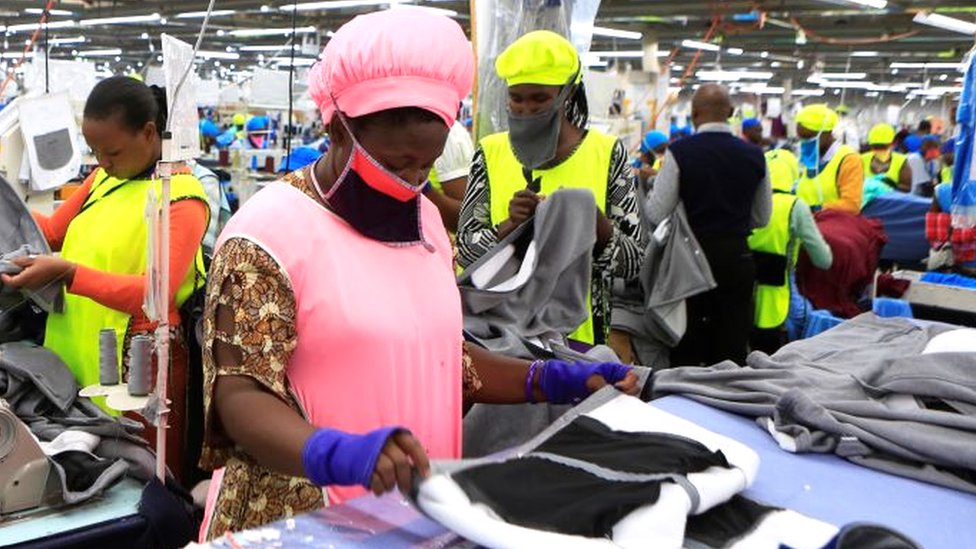 With three of the eight candidates to become the next leader of the World Trade Organization (WTO) coming from Africa, BBC Africa business editor Zawadi Mudibo looks at what difference having one of them at the helm would make for the continent. Though the director-general's role is primarily one of an administrator, an African leader could help ensure that the interests of the continent are taken into account in WTO activities. In Africa, trade is viewed as a driver of growth, a way towards sustainable development and as a tool for poverty eradication. "Foreign aid will not do it for Africa. Like everywhere else throughout history it is trade," says David Luke, head of the trade policy centre at the UN's Economic Commission for Africa.
The Year That Crippled Global Trade Still Poses Five Big Risks (BloombergQuint)
This year could end today and it would still rival the most challenging periods for the international trading system. But the next 3 1/2 months may bring even more potential disruptions that could secure 2020's spot as the most turbulent in modern history. Several key events will occur that have potential to turbo-charge the global trade regime's trajectory toward dysfunction and chaos. "There's no question that the next three months will be pivotal for the state of global trade," said Edward Alden, a senior fellow at the Council on Foreign Relations. With protectionism on the rise in ways similar to the lead-up to the Great Depression, "the echoes of the 1930s are pretty clear," he said.
DDG Wolff: Trade, global cooperation can best deliver adequate medical supplies (WTO)
International trade and cooperation among WTO members are vital to ensure sufficient supplies of medical devices during the COVID-19 crisis, Deputy Director-General Alan Wolff said on 4 September. Speaking at a virtual event organized by the Friedrich Schiller University, DDG Wolff said that trade can be the most efficient and economical avenue for delivering medical devices as long as WTO members work together to assure the reliability of trade channels.
WCO Secretary General addresses the 7th Annual Meeting of International Organisations on Facing the Global COVID-19 Crisis Together
The 7th Annual Meeting of International Organisations of the Partnership for effective international rulemaking took place as a virtual meeting on 3 September 2020. Eighteen Heads of International Organisations including the WCO Secretary General, Dr. Kunio Mikuriya, participated in the High-Level Webinar on "International Organisations and their Members Facing the Global Crisis Together". Dr. Mikuriya pointed out that in order to address the challenges regarding cooperation with other government agencies at the border and to prevent gridlock in supply chains, the WCO had teamed up with relevant public and private international organisations to undertake joint actions, including issuing joint statements and letters to remind Customs, other border agencies and the transport sector to enhance cooperation based on existing standards and guidelines. In this way, the pandemic crisis offered unprecedented opportunities to strengthen collaboration among relevant international organisations.
Economic Watch: China advances digital trade to fuel economic growth (Big News Network)
China has set its sights on the rapidly developing digital economy and digital trade to fuel economic development and seek higher-level opening-up. For China, digital trade will surely help advance its opening-up to a higher level, said vice commerce minister Wang Bingnan while addressing a forum at the CIFTIS. "Data have become the most important trading resource after capital goods," said Huai Jinpeng, a senior official with the China Association for Science and Technology. He added that digital technologies play an increasingly important role in the services trade, and digital trade is the future of trade development.
Major energy companies lag in green shift (DW.COM)
Only 10% of global energy utility companies are expanding their renewable energy capacity at a faster rate than their gas or coal-fired capacity. That is the main finding of a study by Galina Alova from the Smith School of Enterprise and the Environment at the University of Oxford. The study, published in research journal Nature Energy, found that of the 3,000 utilities studied most remain predominantly invested in fossil fuels. And of those prioritizing renewable energy growth, 60% had not halted expansion of their fossil fuel portfolios.