News
tralac Daily News
Breaking: Nigeria's foreign trade drops to N6.24 trillion, trade balance hits N1.8 trillion deficit (Nairametrics)
The value of Nigeria's total foreign merchandise trade stood at N6,242.4billion in Q2 2020. This indicates a sharp fall of 27.30% in Q2 2020 compared to Q1 2020 and 27.46% compared to Q2 2019. This is according to the latest foreign trade report, released by the National Bureau of Statistics. The value of total trade year to date amounted to N14,829.4billion, indicating a drop of 11.96% compared to half year 2019.
pdf Nigeria Foreign Trade Statistics Q2 2020 (8.79 MB)
Nigeria's total exports during the quarter nosedived by 51.7% to stand at N2.22 trillion, a significant fall when compared to N4.59 trillion recorded in Q2 2019 and N4.08 trillion recorded in the previous quarter. The value of total imports dropped by 10.69% in Q2 2020 against the level recorded in Q1 2020 but increased by 0.39% year-on-year.
SAZ challenges women to grab AfCFTA opportunities (The Chronicle)
Budding women entrepreneurs need to scale up their businesses now in order for them to take advantage of the vast market opportunities to be presented by the African Continental Free Trade Area (AfCFTA). Experts say this is an opportunity for women entrepreneurs to grow their businesses by accessing a larger market beyond borders. This will also help economic recovery post Covid-19 pandemic. Women Affairs, Community and SMEs Development Minister Dr Sithembiso Nyoni, said women have the potential to drive business and economic growth. She also emphasised the need to move into manufacturing sector and value add products in preparation for the AfCFTA next year.
Government commits to support clothing, textile industry (SAnews)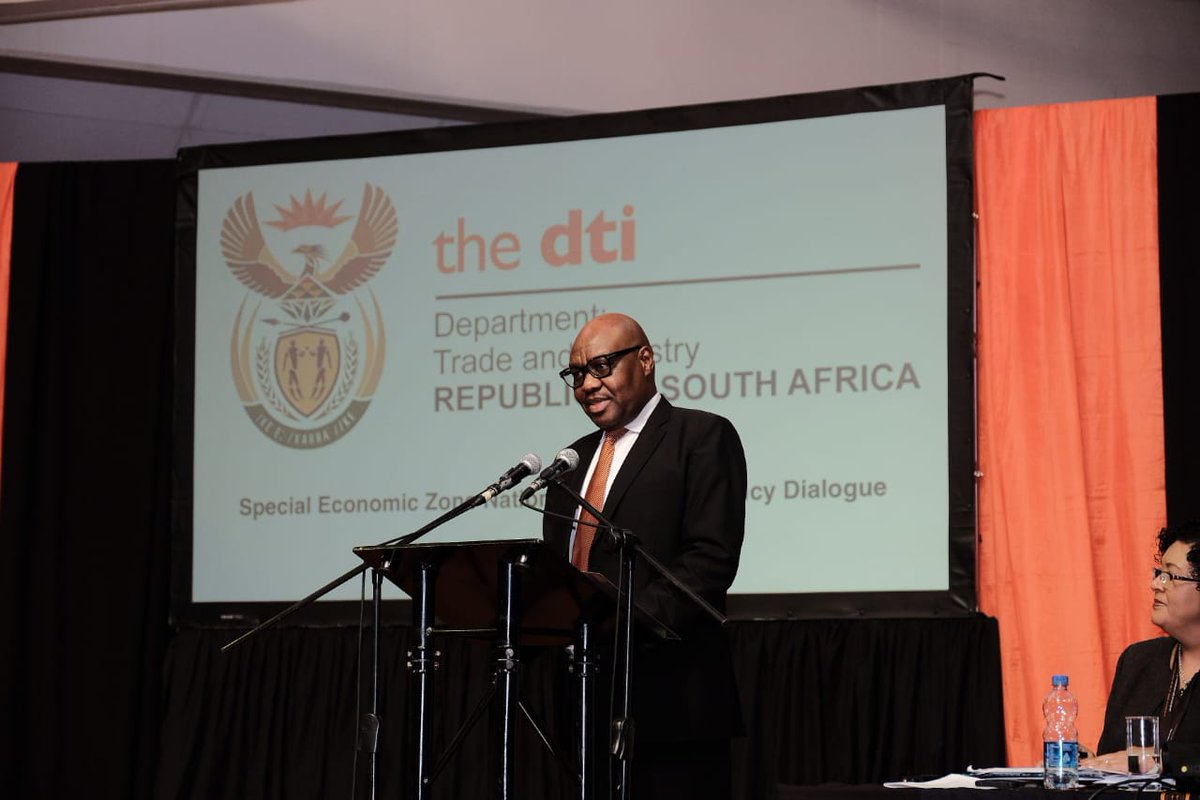 Government is committed to minimising the impact of COVID-19 on the clothing and textile industry. Briefing the committee on Tuesday, Majola said greater effort has been directed to the localisation of personal protective equipment (PPE) to boost the retail clothing, textile, footwear and leather (R-CTFL) industry, in light of the devastating effects of the pandemic. "Government is committed to reviving the sector, as it focuses on rebuilding manufacturing and to enable it to expand its capacity. We are working towards significantly reducing illegal imports to eliminate unfair competition against local retailers and manufacturers," said Majola in his briefing on progress made in the implementation of the industry's Master Plan.
pdf dtic Briefing on the Retail Clothing, Textile, Footwear and Leather Master Plan (939 KB)
Going gets tough for illegal money changers (The Chronicle)
The Reserve Bank of Zimbabwe (RBZ) recently banned mobile money agent lines as well and set $5 000 as the cap for daily transactions for individuals. Following the recent daily and monthly limits pronouncement by the central bank, foreign currency dealers had resorted to multiple accounts to sustain their operations. "Since the lockdown began in March our job has become difficult as authorities are closing all avenues for us. Now this latest ban on agent lines and the cap in daily mobile transactions has totally frustrated our business," said one money changer in Bulawayo.
1.7m Kenyan jobs lost during Covid-19 lockdown (Business Daily)
About 1.72 million workers lost jobs in three months to June when Kenya imposed coronavirus-induced lockdown that led to layoffs and pay cuts. Data from the Kenya National Bureau of Statistics (KNBS) shows the number of people in employment fell to 15.87 million between April and end of June compared to 17.59 million the previous quarter. "We cannot ascertain for how long this damage will last. We need to be prepared to manage businesses within the Covid-19 environment," Federation of Kenya Employers executive director Jacqueline Mugo told the Business Daily. "Businesses that quickly adapt to the new normal and come up with strategies for survival will most likely come out of this crisis season much faster and better."
Kenya ranks at 115 out of 152 in the Competitive Index Report (Capital Business)
Kenya has ranked position 115 out of 152 in the Competitive Industrial Performance (CIP) Index Report, 2020. Speaking at the virtual launch of the CIP Report, Principal Secretary Ministry of Industrialization, Dr. Francis Owino highlighted the importance of driving the competitiveness of the manufacturing sector, noting the need to improve our overall performance to boost trade and investment. "This report shows Kenya is at position 115 out of 152. This is far from our expectations and calls for urgent need to collaborate to achieve faster growth in the sector. We will continue to collaborate with various stakeholders to achieve targets in the policy making formula to get Kenya in the global competitiveness map," said Dr Owino.
Lagos to construct rail line to airport terminal for international passengers (Nairametrics)
The Lagos State Governor, Babajide Sanwo-Olu, has disclosed that the state will develop a rail infrastructure to complement the world-class bus terminal which is under construction to shuttle air passengers to and from the airport terminal. "An airport is a gateway that defines the nation because it is the first facility to be seen by international travellers. The Murtala Mohammed International Airport is an important asset, not only to the Federal Government but also to Lagos State. The strategic use of this airport should necessitate that need for us to fully harness the asset and make it a bubbling destination for tourists and businessmen coming into the country," the Governor said.
Nigerian oil agency under scrutiny for missing billions (Eyewitness News)
Investigators are looking for billions of dollars in missing or stolen funds from a Nigerian agency created to develop the oil-rich but impoverished Niger delta. This year alone, more than 81 billion naira ($215 million, €180 million) have been allegedly misappropriated by officials and contractors, with some believed to have been spent on international flights and training while the nation's airspace was shut due to the coronavirus pandemic.
---
Regional and continental news
How online platform is helping to unlock truck delays across (Business Daily)
An online regional platform where East Africa member states report on incidents along Northern Corridor is playing a key role in unlocking protracted delays of trucks transporting goods cross-borders. The platform was developed during the Covid-19 after truckers reported increased border delays. The platform enables each member state and road users to report incidents that hamper ease of movement to the Northern Corridor secretariat.
"Each transit or transport node along the corridor such as Kenya Port Authority (KPA), weighbridges operators, border posts managers, Inland Container Depots (ICDs), and Container Freight Stations share their weekly experiences and challenges and possible solutions," said Northern Corridor Transit and Transport Coordination Authority (NCTTCA) executive secretary Omae Nyarandi.
Uganda boosts border infrastructure for stronger regional trade position (The Kampala Post)
The Ministry of Trade, Industry and Cooperatives Amelia Kyambadde in the last three weeks of August commissioned the construction of investment venture facilities at four Border Export Zones. The Border Export Zone (BEZ) Program, previously called Border Market Program, was adopted in 2010 to position Uganda's exports into the region and drive the development goals of the country including import substitution and wealth creation.
In total, the government eyes setting up 18 zones in order to boost export earnings with better trade infrastructure and capacity building, increase value addition as a result of the demand for quality products and amenities, provide employment and promote investment through Public-Private Partnerships at the zone sites.
Kagame makes case for continued internet connectivity (The New Times)
President Paul Kagame has called for increased internet connectivity to allow the continent's largest demographic, the young generation to learn, work and prosper. "Today's young generation is the largest in history. We need them to be ready to learn, to work and to prosper," he said. To allow the realization of the ambition, he said that Giga Initiative was launched last year with objectives including mapping demand for internet connectivity in schools as well as serve as a platform to make the infrastructure investments needed for universal school connectivity. President Kagame was speaking at the Generation Unlimited High-Level Meeting convened virtually bringing together Government leaders, business executives and heads of United Nations organizations and multilateral agencies.
Building the post-COVID-19 resilience for Africa's coffee sector (Global Coffee Report)
The Inter African Coffee Organisation (IACO) has joined forces with the International Coffee Organization (ICO) and the Centre for Agriculture and Biosciences International (CABI), to design an emergency intervention program to alleviate the impact of COVID-19 on Africa's coffee sector. The initiative estimated to cost €12 million (about US$14.3 million) aims to alleviate market disruptions, food, nutrition, and income security challenges facing millions of smallholder coffee farmers across 11 countries for an initial three-year period.
Airport reopening will fast-track AfCFTA – Chamber for Tourism Industry (GhanaWeb)
The Chief Executive Officer of the Chamber for Tourism Industry, Prince Ntiamoah Boampong, has said the reopening of the borders comes at a crucial time when plans are far advanced for the African Continental Free Trade Area (AfCFTA) scheduled for January 2021. "Trade and tourism are intertwined and inter-linked, and Ghana being a destination for these two activities would quickly help our failing tourism industry to rise up again," the Chamber's CEO concluded. "Almost every country on the continent had virtually gone on break so for AfCFTA's host country to open its borders is a clear indication that we are open for business. That's welcoming news for Ghana and AfCFTA."
Sub-Saharan Africa's COVID-induced slump may last 3 years – Ghana FinMin (AF)
The economic slump in sub-Saharan Africa caused by the coronavirus outbreak could last well over three years, Ghana's finance minister said on Tuesday. "We are in the middle of the first recession in sub-Saharan Africa in the last 25 years," said Ghana's Finance Minister Ken Ofori-Atta. "The slump may last well over three years and could push between 26 and 39 million people continent-wide into extreme poverty. "Many of our economies are facing economic contractions of up to 15% of gross domestic product and severe liquidity challenges," he added.
"We must help Africa build back boldly, but smartly," says African Development Bank President Adesina
In a speech kicking off his second term as African Development Bank chief, newly sworn in President Akinwumi Adesina unveiled a sweeping vision to consolidate the institution's successes of the last five years, hone the Bank's operations and exploit opportunities and urgency created by the COVID-19 pandemic. "The COVID-19 pandemic has changed everything globally. It has thrown Africa's growth back," Adesina said. "Now, we must help Africa build back boldly, but smartly, paying greater attention to quality growth: especially in the areas of health, climate and the environment."
---
Global news
WTO Hopeful Okonjo-Iweala Balances Nigeria, U.S. Citizenships (Bloomberg)
Harvard-educated and longtime World Bank economist Ngozi Okonjo-Iweala is bidding to become the next director-general of the World Trade Organization under a nomination from her native Nigeria while also holding dual U.S. citizenship. Okonjo-Iweala obtained American citizenship in 2019, her spokeswoman told Bloomberg News, after spending most of her career at the World Bank and living in the Washington suburbs. On Tuesday she received the endorsement of Aliko Dangote, Africa's richest man.
"Unfortunately in this rather mercantilist world we live in, some members might take nationality into account," said Stuart Harbinson, a former senior WTO official and a senior consultant on international trade for the Brussels-based Hume Brophy communications agency. "It is much more important to get the right person."
How COVID-19 is changing global value chains (UNCTAD)
The COVID-19 crisis has amplified profound fault lines in the functioning of global value chains (GVCs) and exposed the fragility of a model characterized by high interdependencies between leading firms and suppliers located across several continents. All at a time when timely production of critical products is more important than ever, amid a pandemic that has locked down vast parts of the planet and limited economic activities in an unprecedented way.
The persistent uncertainty related to the shift of the epicenter of the pandemic from region to region, and the parallel instability affecting production costs, make it difficult to resume business on a global scale, leading many firms to reduce or stall their production activities. At the same time, temporary surges of demand for certain critical commodities have not been met by increased supply since, under the current model, dramatic changes in the scale of production might not be easily absorbed after a return to normality.
Written by Piergiuseppe Fortunato, Economic Affairs Officer, UNCTAD.
Ethiopia seeks 'clarification' from US on aid cuts over Nile Dam construction (Middle East Eye)
Ethiopia has asked the US government to clarify reports that Washington may withhold vital security aid following a dam dispute with neighbouring Sudan and Egypt. The US government is reportedly considering cutting $130m in aid that could affect security, counter-terrorism and anti-human trafficking programmes in Ethiopia, as part of a bid to pressure the country from going forward with its plans to fill the Grand Ethiopian Renaissance Dam (GERD), Foreign Policy reported last week
UN summit to discuss post-pandemic global governance (Hindustan Times)
Niger, the current president of the UN Security Council, said Tuesday it will organize a September 24 videoconference between heads of state to discuss the future of global governance following the coronavirus pandemic.The summit will debate "post-Covid-19 global governance in relation to the maintenance of international peace and security," Niger's UN Ambassador Abdou Abarry told journalists while presenting the Council's program for the month.
India, Nigeria discuss bilateral ties, resolve to strengthen cooperation in defence, trade (BW Businessworld)
External Affairs Minister S Jaishankar on Tuesday held talks with his Nigerian counterpart Geoffrey Onyeama and acknowledged the excellent long-standing, multifaceted and strategic bilateral ties between the two countries, based on mutual friendship and cooperation. The discussions covered a wide spectrum of cooperation on political, economic and trade, defence and security, developmental assistance and cultural cooperation.
"With a bilateral trade turnover of USD 13.9 billion in 2019-20, India is Nigeria's largest trading partner, and Nigeria is India's largest trading partner in Africa. Nigeria is a leading energy security partner of India, and both sides agreed to strengthen their cooperation in this sector including at Government to Government level," the official release states.
Cultivating Global Financial Cooperation – IMF F&D
The COVID-19 pandemic is the mother of all stress tests for the global economy, and not least for emerging markets and developing economies. That financial impact preceded COVID-19's physical arrival in the developing world. Between February and April, more than $100 billion in financial capital flowed out of emerging and frontier markets, five times as much as in the first three months of the global financial crisis. The World Bank forecast that remittances would fall by an additional $100 billion in 2020, four times as much as during that earlier crisis. Global trade was forecast to fall even faster than in 2009. Commodity prices collapsed in response to the global recession, while emerging market and developing economy currencies weakened against the dollar.
Having averted the worst does not mean that emerging market and developing economies averted the bad. The financial repercussions of COVID-19 pointed up remaining flaws in the global financial architecture and underscored the need to correct them.
Payments, trade head for digital 'tipping point' as pandemic forces shift (South China Morning Post)
Global trade has entered a new era where the digital economy is going to be the centre of the world's economic structure, according to Jack Zhang, chief executive and co-founder of Tencent Holdings-backed payments operator Airwallex. "The speed of e-commerce is being accelerated – probably what happened in a decade happened in a couple of months," Zhang said. Zhang was one of the speakers at "Digital Trade in a Post-COVID World", a virtual briefing organised by the South China Morning Post and the World Economic Forum on Wednesday.