News
tralac Daily News
National news
South Africa reports trade surplus in July as imports continue to lag (News24)
South Africa recorded a trade surplus of R37.42 billion for July, this as exports increased on the back of improving global demand. However imports are expected to remain restrained due to weak domestic activity says an economist. The South African Revenue Service (SARS) on Monday released trade data for July 2020, which was largely driven by export activity. Exports were valued at R122.49 billion, while imports were valued at R85.07 billion.
pdf Merchandise Trade Statistics: July 2020 (263 KB)
Month-on-month, exports increased by 6.1% or by R7.06 billion between June and July. While imports increased by 22.1% or R15.37 billion between the two month. "Export activity has picked up in line with the increase in global demand," said Investec economist Lara Hodes. This coincides with the easing of Covid-19 lockdown restrictions globally.
Despite Covid-19 threat, calls mount for international borders to reopen in SA (IOL)
Covid-19 might have been imported into the country by international travellers, but there are calls from within the industry for the nation to fully open its borders. While the sector has been granted some reprieve with domestic and inter-provincial travel currently being allowed under recently relaxed lockdown measures, experts warn that this is not enough to salvage the industry, which was one of the hardest hit by the global health crisis.
Tourism Business Council of SA (TBCSA) CEO Tshifhiwa Tshivhengwa told The Saturday Star this week that opening up international travel could salvage the industry, which contributes immensely to the South African economy. "We are appealing to the government to open the borders in a fast way," he said. People are waiting to travel, so let's save jobs and the economy," he said.
Stricter cryptocurrency taxes are on the way in South Africa (BusinessTech)
Accounting and consulting group Mazars, says that cryptocurrency traders should prepare for stricter taxes in South Africa in the near future. Over the last five years, South Africa has emerged as one of the world's most notable cryptocurrency adopters, and an estimated 13% of its internet users owning or using cryptocurrencies.
Protocols to be reviewed regarding congestion near Durban Port (Berea Mail)
Trasnet National Ports Authority (TNPA) has called for all businesses in the port to revise protocols around giving early warnings of any business disruptions so that Transnet can notify other port users and the public of congestion incidents. This comes after severe truck congestion in the Bayhead, Island View and Maydon Wharf precincts of the Port of Durban on Monday and Tuesday last week. TNPA confirmed that the congestion had been related to the operation of a private bulk terminal operator located in Island View.
'Zimbabwe arrears clearance hinged on strength of economy' (The Zimbabwe Mail)
Zimbabwe's capacity to clear its external debt and meet its obligations is hinged on the strength of the economy hence the Government is seized with rolling out critical reforms aimed at attracting more investment and stimulating domestic growth, Finance and Economic Development Minister, Professor Mthuli Ncube, has said. Zimbabwe has about US$8 billion external debt and the domestic debt is about $12 billion, according to the Treasury.
Zimbabwe, Botswana plan seamless border services (The Chronicle)
Zimbabwe and Botswana are set to establish a One-Stop Border Post, which will see traders from both countries enjoying seamless border immigration processes and improved trade prospects with wider economic impact on the region at large. Zimbabwe's trade with Botswana has in the past three years shown steady growth with Zimbabwe' exports moving from US$19,2 million in 2017 to US$43,3 million in 2019.
"With regards to the issue of trade facilitation, the Governments of Zimbabwe and Botswana are discussing the possibility of establishing a One Stop Border Post at Plumtree/Ramokgwebana," he said. "This will enhance trade facilitation and lead to expansion of trade, not only between Zimbabwe and Botswana but intra-regional trade in goods and services, contributing towards Sadc's regional integration objectives."
Foreign, local firms restrategise to cushion currency devaluation, others (The Guardian Nigeria)
Local demand for dollar by manufacturers has risen over $1.16 billion on the back of outstanding obligations, even as the Central Bank of Nigeria (CBN) moves to adjust foreign exchange rates in search of a uniform framework. The Lagos Chamber of Commerce and Industry (LCCI) had said data on per capita income, poverty, unemployment, and food inflation affirmed worsening state of affairs. Its Director-General, Dr. Muda Yusuf, submitted:
"There is high degree of uncertainty which fuels speculation; there is a high component of forex demand driven by the arbitrage opportunities which differential rates offer; there is the component of demand driven by the accumulation of inventories of raw materials caused by the current opacity in the market; there is the desperation of non-resident portfolio investors to exit the Nigerian economy. Therefore, the policy response should be situated in the context of these underlying conditions."
Union Systems launches Nigeria's first multi-bank trade finance portal, Optimus (The Guardian Nigeria)
Union Systems Limited, a leading financial technology company, today announced the launch of its new product, Optimus, the first multibank international trade finance portal in Nigeria. Optimus enables corporates to initiate, process, and manage all international trade transactions across their banks from a single portal.
"Optimus comes at the nick of time to address the unmet demands of the corporates and to support both corporates and banks to thrive in this new normal created by the pandemic. Optimus will decentralize trade finance operations for corporates by putting them in charge of their operations and interactions with their bank partners" said Ngozi Ilondu, Head of Marketing, Union Systems Limited
---
Regional and continental news
Au revoir, Abidjan. Hello, Accra: African Development Bank 2021 Annual Meetings to be held in Ghana
Ghana will host the African Development Bank's next Annual Meetings in May 2021, it was announced Thursday, at the end of the Group's 2020 meetings. The 2020 edition of the Annual Meeting originally scheduled to be held physically in Côte d'Ivoire, home to the Bank's headquarters was entirely virtual due to the COVID-19 pandemic, for the first time in the Bank's history.
Ofori-Atta outlined the challenges the continent faces due to the unprecedented COVID-19 pandemic – contracting economies, risk of economic depression, 25 to 36 million Africans being pushed into extreme poverty, and the rising debt burden. Yet, the Minister said, the Bank's recent increase in capital, which rose from $93 billion to $208 billion in 2019, and the African Continental Free Trade Area agreement (AfCFTA), gave room for hope. "A one percent increase in Africa's trade will result in $70 billion coming to us. So we must work hard to make sure that the days ahead are fulfilled for Africa," Ofori-Atta said.
Africa's GDP could lose $173.1 billion by year-end, projects AfDB (The Guardian Nigeria)
The African Development Bank (AfDB) has projected that Africa's Gross Domestic Product (GDP) could lose about $173.1 billion by year-end, and $236.7 billion in 2021, due to the impact of the on-going COVID-19 pandemic on the continent's economies. Specifically, AfDB President Dr. Akinwumi Adesina said with the pandemic, Africa has lost over a decade of gains of economic growth.
4th High-Level Tax Policy Dialogue: Outcome Statement
Taxing rights for Africa in the new world and effects of COVID-19 – The role of tax policymakers and tax administrators
The meeting took note of the complexities surrounding the global debate on the tax challenges arising from the digital economy, including the uncertainty on the timelines towards completion of negotiations. As such, the importance of African countries speaking with one voice for a cohesive approach to the global solution was underscored.
The meeting noted that now more than ever in an era of social distancing as a result of the COVID-19 pandemic and beyond, African countries should adopt digital technologies and automate tax administration processes to improve tax compliance and revenue collection.
The meeting agreed that the improvement of efficiency in tax policy and administration is vital to the balanced act of effectively providing services to taxpayers while mobilising the much-needed revenue for the provision of socio-economic infrastructures.
The meeting unanimously agreed that a poor policy would lead to poor implementation, which will culminate into less revenue collection by respective tax administrations. It was observed that "imported tax policies"must not blindly be adopted, planted and implemented without the consideration of local economic landscape on the African continent.
Africa Trade Pact's Architects Seek to Help Offset Tariff Losses (Bloomberg)
Architects of an Africa-wide free-trade area are in talks with the African Export-Import Bank to set up an adjustment facility to offset revenue losses for countries that lower cross-border tariffs, according to the zone's most senior official. "We are at advanced stages of negotiating with Afreximbank an adjustment facility, which will address the concerns of countries that will experience short-term revenue losses from liberalizing trade under the African Continental Free Trade Area," Wamkele Mene, the secretary general, said Friday in a virtual tax summit organized by EY.
EAC in race against time for post-Brexit deal with UK (Ventures Africa)
East African countries are scrambling to secure bilateral trade deals with the United Kingdom for the post-Brexit era as the current multilateral agreement nears expiry and negotiations for a new collective pact stall over ideological differences. The East African Community is racing against time to get a new deal with extensive talks expected in the coming weeks. There are only four months left until the current trade arrangement ends December 31, which gives partner states duty and quota-free access to the British market.
Côte d'Ivoire approves €400m project to create West African port hub (Hellenic Shipping News Worldwide)
Work is set to begin on the expansion of the port of Abidjan in the Côte d'Ivoire after an agreement was signed between French logistics company Bolloré, Dutch port operator APM Terminals, and China Harbour Engineering Company (CHEC), the contractor that will carry out the work. The €400m project will add a second container terminal to Abidjan on reclaimed land. This Côte d'Ivoire Terminal (CIT) is scheduled to be complete by the end of next year, after which the developers will run the port during a 20-year concession period before transferring ownership to Abidjan Port Authority.
Ethiopia seeks US clarification on reports of planned aid cut (Engineering News)
"We have asked for clarification on reports of the United States' decision not to give the $130-million it assigned to Ethiopia," Fitsum Arega, Ethiopia's ambassador to the US, said on Twitter. "We have heard that the issue is related to the ongoing negotiations on the Grand Ethiopian Renaissance Dam."
The Missing Links in Africa's Ports Connectivity (The Maritime Executive)
Since Africa is home to many developing countries, including 16 which are landlocked, it is faced with immense pressure to improve its connectivity to global trade. As these vulnerable economies continue to lag behind in the development of key infrastructure, such as road and rail transportation, they have considerable challenges benefitting from trade opportunities due to unreliable movement of their imports and exports, which drives up trade costs. It is against this background that the United Nations Economic Commission for Africa (UNECA) mooted the idea of a Trans-African highway back in 1971, towards the conclusion of the African Independence era. The highway is not just one proposed road, but a mosaic of nine highways extending nearly 40,000 miles across the continent, connecting major African port cities.
COMESA, AU, SADC Engage Youth on Silencing the Guns
COMESA, the African Union and SADC have agreed that young people in Africa should no longer be seen as perpetrators of conflicts or targets of violence but rather be recognized as actors and partners in promoting peace and security. This affirmation was made during the Southern Africa Regional Consultations on the Roles of Youth in Silencing the Guns in Africa. The virtual meeting held on Friday 28 August was organized by COMESA working with the AU and the Southern African Development Community (SADC).
High level representatives from the two Regional Economic Communities (RECS) and the AU discussed how youth can play a bigger role in silencing the guns on the continent. The event offered an opportunity to the young peacebuilders to interact with the RECs and build relationships with their intergovernmental institutions.
---
Global news
SGR is the road of friendship and prosperity for Sino-Kenyan ties (The Star)
The global infrastructure landscape has changed tremendously since the advent of China's Belt and Road Initiative, billed as the single most significant undertaking by the country on the international stage. In Africa, Kenya is a core part of the Maritime Silk Road and the Belt, with the standard gauge railway being the flagship project of this initiative
The project is significant in terms of saving valued natural resources and protecting the environment, especially from the challenge of global warming, because it will reduce the carbon emission footprint by introducing a modern and more efficient railway system. It is one of Kenya's Vision 2030 flagship projects that will contribute significantly to different sectors of the economy, directly or indirectly.
India explores defence exports to Africa, focus on making India resilient for business opportunities (The Financial Express)
India-Africa trade having multiplied and diversified in the last 16 years, the focus is on making India resilient for business opportunities in Africa. Speaking at the webinar on `Making Africa Resilient for Indian Business', organized by industry body FICCI, Rahul Chhabra, Secretary, Economic Relations, Ministry of External Affairs (MEA), has said, "The Free Trade Agreement has been negotiated within Africa and it is just a matter of time before it will be implemented and it will be a game-changer." Once the FTA is in place, it will open great opportunities for those Indian businesses who are desirous of setting up their base there.
Speaking on condition of anonymity, a top diplomat said "A Comprehensive Economic Partnership Agreement can be a game changer but we should make it truly partnership based without preaching Africa that it is to their benefits. We must believe that African people can see the benefits and we should focus comprehensively on creating win-win economic Partnerships."
COVID-19 pandemic accelerated shift to e-commerce by 5 years, new report says (World Economic Forum)
As the COVID-19 pandemic reshapes our world, more consumers have begun shopping online in greater numbers and frequency. According to new data from IBM's U.S. Retail Index, the pandemic has accelerated the shift away from physical stores to digital shopping by roughly five years. Department stores, as a result, are seeing significant declines. In the first quarter of 2020, department store sales and those from other "non-essential" retailers declined by 25%. This grew to a 75% decline in the second quarter.
Oil-backed trade group is lobbying the Trump administration to push plastics across Africa (Unearthed)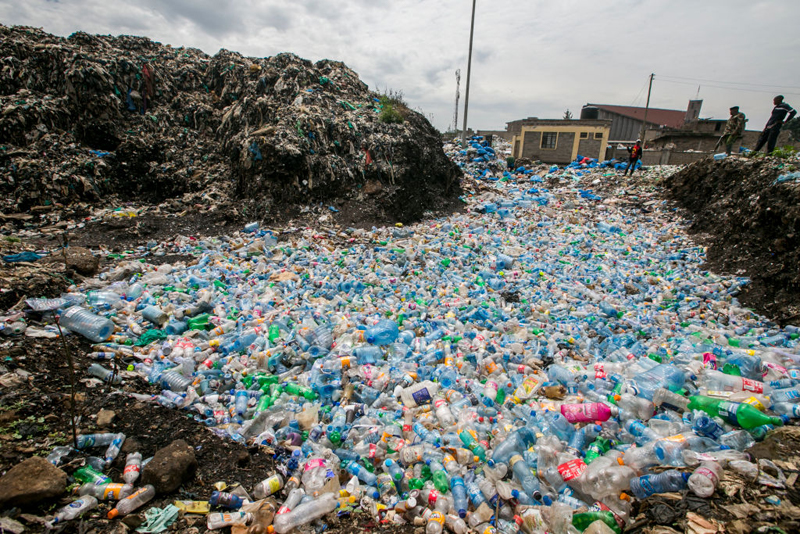 A spokesperson told Unearthed that the new restrictions "will prevent countries that lack materials management infrastructure – such as for collection, sorting and recycling – from sending what they can collect to countries that do have recycling and disposal capacity… Without this outlet for developing countries, ISRI worries that an already bad situation will become much worse." According to ISRI, in 2018 the US imported more than 92,000 metric tons of plastic waste from non-OECD countries.
The Trump administration backed the industry position – opposing the implementation of the new rules at the OECD. US opposition has led to concerns over whether the country will seek ways around the changes.